Laos food
Lao food is close to Thai cuisine but is characterized by the use of even more herbs (at least 120), sometimes belonging to the traditional pharmacopoeia and peppers. Rice, especially sticky rice steamed, is the staple food. Fragrant soups are also popular.
Potentially varied, kitchen 100% Laotian unfortunately reduced to a limited number of specialties in most restaurants, although similar to those of the great Thai recipes cousin flatten a little judgment. There are still establishments and eateries depart from this principle, sometimes in the country and focused on specific foods and ingredients, or more likely in large cities. The lucky ones have been invited by a Laotian family, where the kitchen is often declined with character.
- Laos take their meals early: have lunch from 11:30 to 13h and from 17h -17h30 dinner. In traditional restaurants, you'll struggle to get served after 21h. Rest assured, in the cities and tourist sites, such as in Vientiane or Luang Prabang, Pakse, schedules are more flexible and responsive
Specialties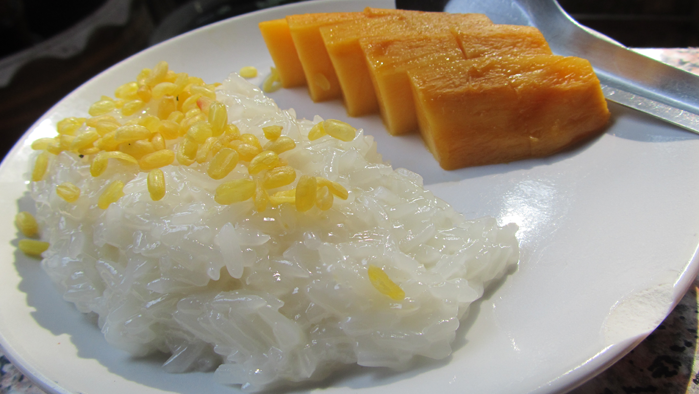 - The khao niao or glutinous rice, steamed and served in small baskets of rice straw or woven bamboo is the most common form of rice. It is kneaded in the hand into balls that are dipped into dishes as sauce with the bread. It is therefore seen and wise to wash your hands before, even symbolically.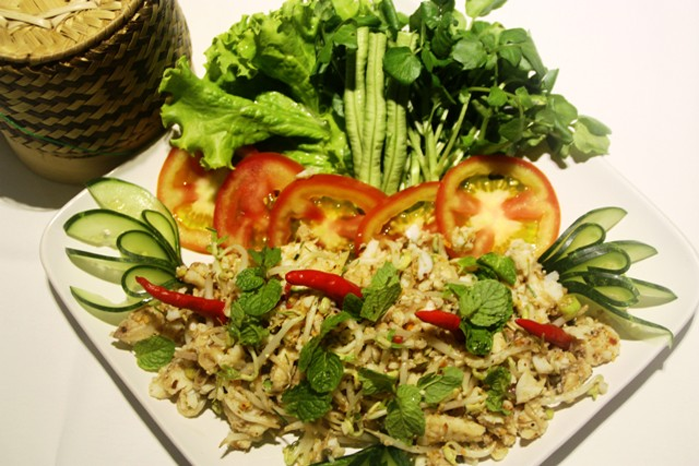 - The lap is a traditional Lao salad of chopped meat or fish, seasoned with lime and chilli and served with a variable amount of vegetables and green salad. It is accompanied by the principle of sticky rice. This is THE iconic Lao meal. Simple, but always good luck and sometimes excellent.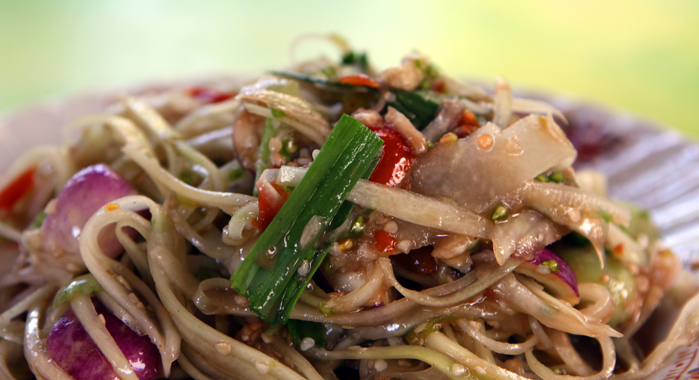 - The tam mak houng or green papaya salad, Laos is a culinary institution. This is equivalent to the famous Thai somtam. Green papayas are pounded with garlic, lemon and chilli. Sensitive stomachs, refrain within the order without chillies.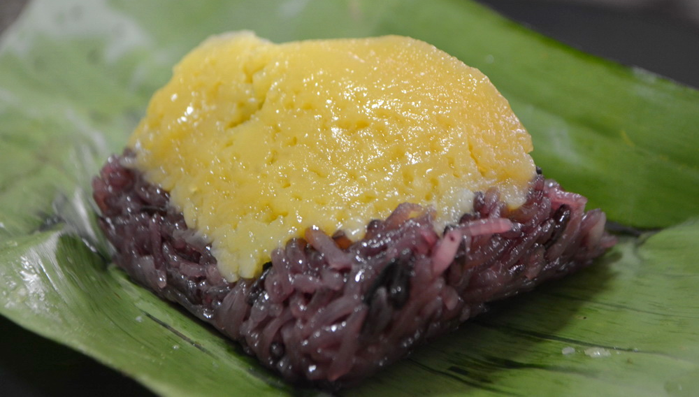 - The mok is first a cooking steamed in a banana leaf, more or less preparation, minced, or the consistency of a paste. It is a cousin of the iconic Cambodian amok or hok mok Thai. Moks the fish in coconut milk are particularly delicious. There are also moks meat, and eggs moks ants in season.
- The sweet pork Chinese sausages are usually served grilled or fried.
- The gold lam is one of the specialties of Luang Prabang. It is a soup made of eggplants miniatures, slimy mushrooms and wild fowl.
- Soft som are pieces of raw pork marinated in vinegar and chilli inside banana leaves. This is normally safe. Som pa is the same recipe with fish.
- The khao poun is a popular dish. It consists of rice noodles that can be served in soup, accompanied by a spicy broth of coconut milk, bean sprouts and mint leaves.
- The kai ping: it is grilled to eat with such khao lam, glutinous rice stewed in bamboo bark chicken. Or accompanied sesame dumplings and fresh fruit for dessert.
- Meat dried in the sun and grilled buffalo: it is strong enough, and you better have good teeth.
- Pho (pronounced "fire"), of Vietnamese origin, is one of the most popular dishes from Laos. Noodle soup and meat into thin strips or pellets (often both), accompanied by small chillies, mint, bean sprouts, coriander and basil, each accommodates at will.
- On each table in the restaurant, an assortment of chili powder, soy sauce, vinegar and sugar is always available to the client. To this we must add the necessary pa nam, a fermented fish sauce called the Vietnamese nuoc mam. Prepared with the same ingredients, pa dek is in the form of pulp, but it is best to be wary in the countryside, for hygiene reasons.


- The tom yam soup is of Thai origin consisting of meat or fish decorated with leaves of lemongrass, coconut milk, pineapple and other ingredients. The mixture is usually enough statement. It is traditionally cooked - and sometimes served directly - in a circular hotplate supplied by charcoal.
Beverages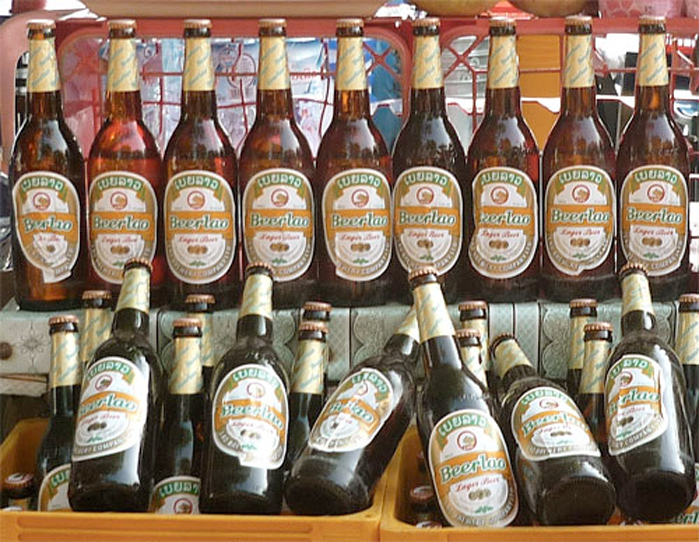 - Never consume unboiled tap water, even in the city. Apart from restaurants and hotels for tourists, be careful of ice-cube. Never go capped mineral water, which is easily purchased from any grocery shops and streets.

- Most international sodas are found in Laos, plus a few local specialties.

- Fruit juices: many, fresh and tasty. Unless otherwise specified by you, they are often served sweetened with palm sugar.

- Tea: there is always but a glass of water (purified, of course) now replaces as the accompaniment of the meal, if you have nothing else ordered.

- Coffee, whose plantations were introduced by the French on the Bolaven Plateau, is very good, although more strongly roasted (slightly smoky taste) in Europe. Are found almost everywhere. In general, it is served with sweetened condensed milk. For a black coffee, one must specify the "kafé dam" command. It is also cold, with ice.

- Beer is a very common drink in Laos. Brewed near Vientiane, the Lao Beer in quasi- monopoly, has earned its fame until outside the country's borders. Very affordable (starting from 10 000 kips) for a large bottle of 70 cl in taverns and restaurants, it is usually served cool enough to avoid drowning in the ice (charged at half the price of the bottle). It is also sold in small bottles and cans of 30cl, or, more rarely, pressure (not always top).

- The Lao PDR, Laos national alcohol is distilled from rice and title of 40-50°. It is eaten in all taverns and its price is ridiculous. Be careful though, it has the reputation of making a little crazy and definitely drunk if drunk to excess! In areas frequented by tourists, the Lao Lao cocktail prepared by adding honey, lemon juice and ice, did a little local office ti -punch.
Promotion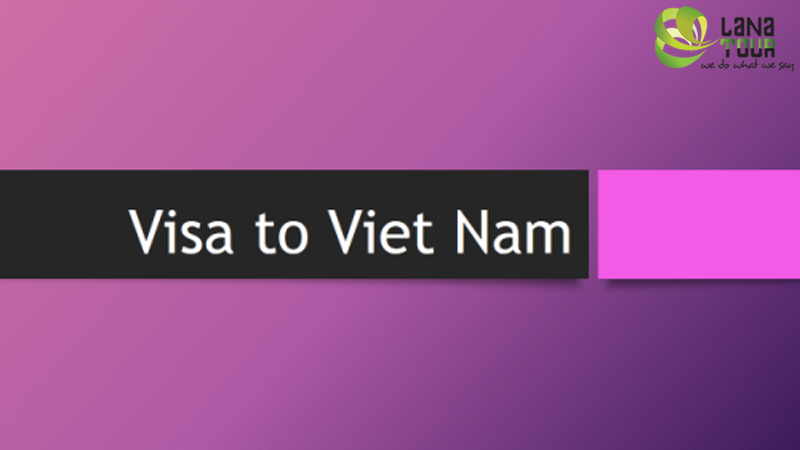 Free Visa Upon Arrival Letter
Are you going to Viet Nam next months? Don't you know how to get the visa? Don't worry about that because we can take care of this. Only one thing you have to do is sending us your copy of your passerport.
The Best Offer for Family
An idea circuit from North to South Vietnam through its beautiful sights, with a moderate rythm, the variety of activities for children, good accommodation for family.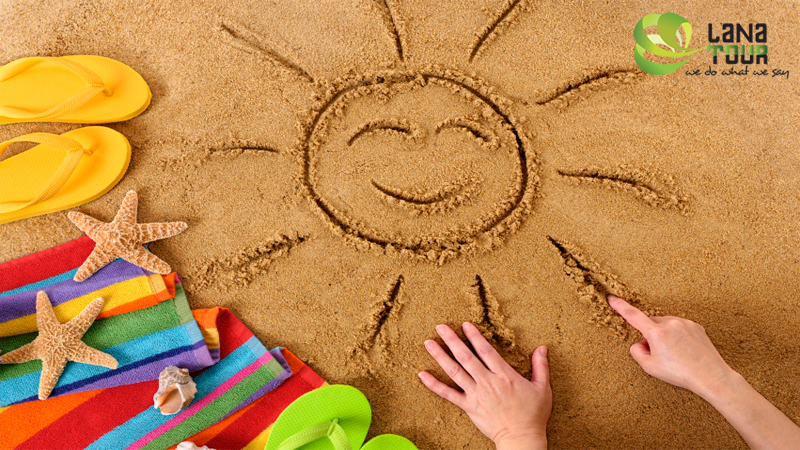 Summer Promotion
Summer is a great time to travel, to enjoy the beautiful beach but traveling with many attractive offres is a great thing even better. Please see below our special promotion for your summer trip