Bird Watching in Thung Nham
Thung Nham - beautiful places, where you can learn, explore and enjoy a exciting and attractive trip. With environmentally friendly brooch. You will take the tram, see the sunset valley, biking around the valley, watching the thousand birds with all things fragrant flowers one area ... a new sense of peace and great emotion
Not far from Tam Coc, Thung Nham(in Ninh Binh province) is known under the name Bird Valley, home to thousands of birds.
While Trang An, Tam Coc - Bich Dong have become familiar, the Thung Nham is the name seems quite strange for tourists to Ninh Binh. If you love the natural scenery, surely, the poetic beauty of Thung Nham will not disappoint you.
The most striking feature of this site is the land of countless birds. You will be surprise to see hundred kinds of birds there. The most common are Stork, herons, teals... In particular, Thung Nham is also home to many species of rare birds recorded in the Red Book.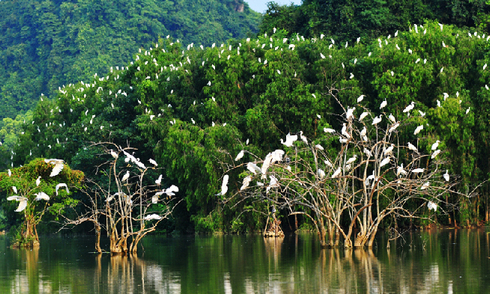 The best time to visit Thung Nham is in the late evening because the birds come back home this moment. So please note this detail for your interesting experience there
Many other activites you can do in Thung Nham are: boating in the the flooded forest, visiting the limestone caves such as: Vai Gioi cave, But cave, Ba Co cave…
This excursion can be combined with the visit of Tam Coc in one day from Ha Noi. You can also check below some of our tours with watching Birds in Thung Nham:
- Viet Nam North and Centre - 13 Days
- Vietnam Highlights - 14 Days