Transportation
Since 2009, Laos has a rail network, but very modest since 2013 it had only 3.5 kilometers stretching between Friendship Bridge and Thanaleng station, located 17 km from Vientiane. From this station you can reach Vientiane by bus, tuk-tuk or taxi.
Train
Since 2009, Laos has a rail network, but very modest since 2013 it had only 3.5 kilometers stretching between Friendship Bridge and Thanaleng station, located 17 km from Vientiane. From this station you can reach Vientiane by bus, tuk-tuk or taxi.

However, the majority of rail passengers from Thailand (Bangkok, Ayutthaya ... ) continues down to the border station of Nong Khai. The rail network should be extended by 5 to 10 years.

Buses and taxis
The bus is the means of transport most used. Bus stations are often located away from the city center, forcing travelers to take a tuk- tuk. The buses are often crowded and their comfort is variable (normal bus, express or VIP).

Guesthouses often sell tickets including transfer (sometimes, tourist bus will pick you up directly at your accommodation) without commission.

For intercity travel the remote or rural areas, it is generally necessary to use tarpaulin trucks or scooters acting as taxis. They are really jigger and regularly packed to the roof of passengers and goods! If buses usually depart at a fixed time, these taxis will start normally when they are full, within scheduled service (often in the morning between 7:30 and 10:30) slices.

The roads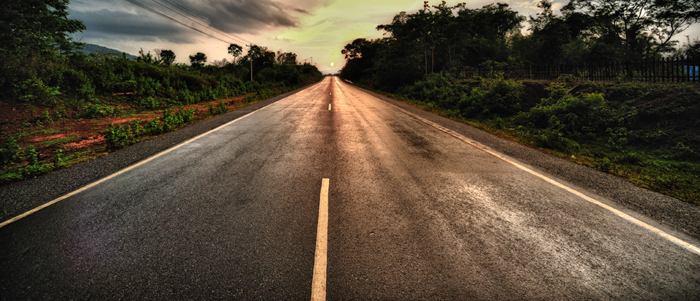 Major roads in the country, as the road No. 13 called "French route" (through Laos from north to south and connects China and Cambodia) or major transverse axes joining Thailand to Vietnam, are paved and good.

However, most of the 15 000 km network of trails remain in soil or gravel. These are more or less passable during the rainy season (mud, deep ruts), and the rest of the year, according to the repair work Travel by bus and taxis are often long and exhausting ...

In northern Laos, paved roads cover only about 10 % of the road network. Therefore, in the rainy season, the connections are more affected than in the south and sometimes interrupted. During this period, it is not advisable to travel on difficult routes because of the risk of accident.

Tickets and travel times

Normal bus tickets usually buy the day of departure at the offices of road or railway stations, if there is none, directly from drivers. Tickets and VIP express buses can be bought in advance, also with local travel agents or guesthouses. Tickets vans, taxis are taken most often from drivers.

Flight (domestic flights)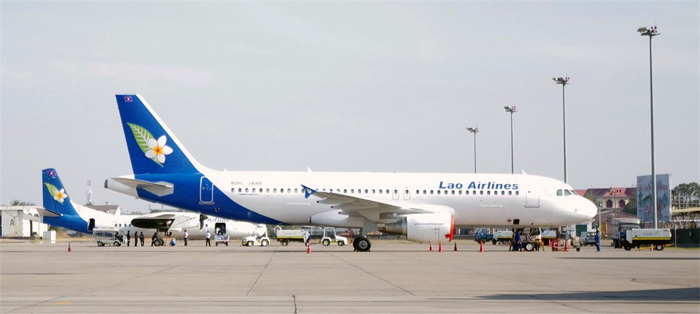 The plane is the most convenient way to transport and faster to move inside Laos. From Vientiane, Lao Airlines has several daily flights to Luang Prabang and some weekly flights to Pakse, Xieng Khouang, Oudom Xai Houeisai, Luang Namtha and Savannakhet. Also had several weekly flights from Luang Prabang to Pakse.

Important: aircraft are often delayed when the weather is bad, especially in the rainy season. Similarly, flights on small lines are canceled if the aircraft is not sufficiently filled. Therefore we advise you to provide broad route.

Know, in any case, the safety standards Lao Airlines have increased considerably since the late 2000s.

Boat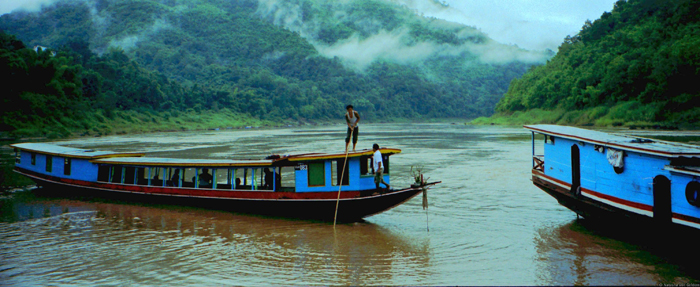 Sail on the Mekong and its tributaries ensures beautiful travel over water. However, bitumen or track progress everywhere, and regular river services decrease. Moreover, the level of the Mekong and its tributaries is increasingly low, which limits some navigations in the rainy season and months. For these reasons, it will often use boats for tourists to enjoy the timeless landscape of the Mekong.

Navigation on the Nam Ou River, a tributary waterway between Luang Prabang and Phongsaly province is even more captivating.

When sailing?

The Mekong is theoretically navigable during the rainy season throughout his Lao course.

- Between Luang Prabang and Vientiane (count down for 4-5 days, 5-6 days in reverse), only very few large sampans goods, comfort more than rudimentary still browse during this section. If you find one, it is better to take his food because the food on board is very random.

- The only sections with daily connections are: Luang Prabang and Pakbeng - up Houeisai during high water); Pakse - Champassak and to the island of Don Khong if the water level allows.

The different types of boats

- Small private boats: these water taxis organize river trips to the hour, half day or full day, rarely more.

- The slow boat (slow boat): it is "the Laotian river bus." He is a regular motorboat sort of wooden barge twenty meters long. It is economical and allows to ship the goods. Passengers are seated under a roof skylight. Do not install on the roof because it is actually very dangerous.

- Cruise ships Wat Phou and Luang Say: an expensive and luxurious formula. These long wooden boats equipped for small groups. Cruise 3 days and 2 nights are held in southern Laos. More info on the site Mekong Cruises.

Car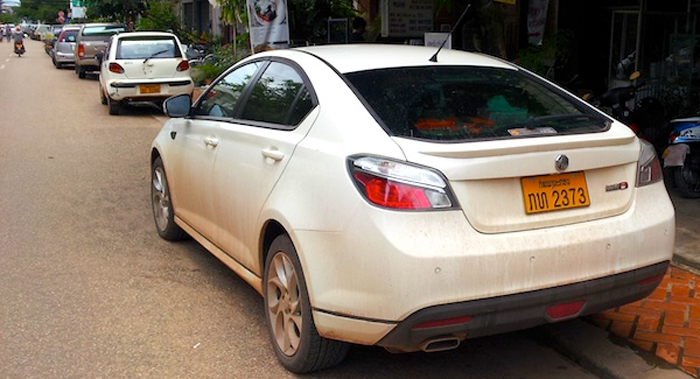 Laos, rentals cars are mainly chauffeur. It recommends a priori and, for obvious reasons of language proficiency when you palm (easy off the main roads ... ), usually local traffic and insurance issues ( what happens your responsibility will not be engaged ) ...

However, the signal has improved, the GPS works much traffic and is rarely crowded. All this allows individual drivers and experienced adventure to consider if it tries them.

All travel agencies offer chauffeur driven cars for a reasonable price (low overhead compared to a lease). The formula is useful if you are at least three. The range of vehicles ranging from 4x4 conditioned minibus.

Taxi

In Vientiane, the Metered taxis are available, but usually remains to fix the amount of the fare before boarding. They are mostly found at the airport and to the few large hotels. They can be rented by the hour, half day or full day.

Samlo, tuk- tuk, jumbo and urban bus

Tricycles motorized tuk-tuk, similar to those found in Thailand and Cambodia, or their version sidecar (then called Samlo) can carry passengers from February to April depending on the model.

Its big brother, the jumbo (collective tuk -tuk), can accommodate up to 12 passengers and is more or less abundant in all cities. We suggest to negotiate very firm, and avoid tuk- tuk parked facing the big hotels, chic restaurants or western supermarkets.

A race in the city center 5 minutes to change from 10,000 kip for full tuk-tuk, but drivers try to ask more. If you embark on a collective jumbo count 5,000 kips. For longer trips, take about 40,000 kips whole tuk- tuk from the center of Vientiane airport, and 80,000 kips to Friendship Bridge.

Also note that after 21h -22h, drivers are used to raise their rates by about 50% ...

Good news for small budgets, a city bus service has been set up on and around Vientiane. It will cost about 10 000 kip to the airport.
Few drivers understand English or French, so it is quite useful to have the name of the destination written in Lao.

Bike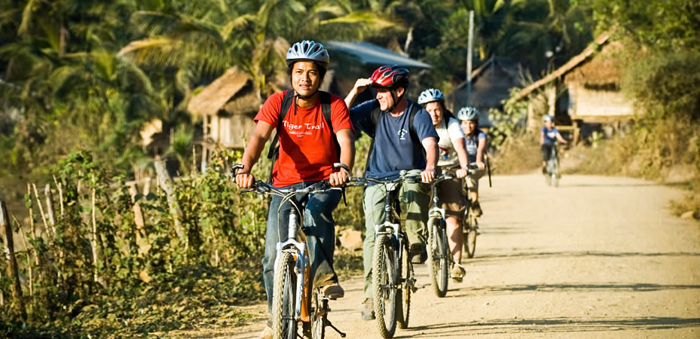 The bicycle is probably the best way to visit Vientiane and Luang Prabang. You will find bike rentals in guesthouses. Traffic is not dense and distances remain short.

Motorcycle

We can not advise renting a bike because accidents are very common. Sometimes simply due to road conditions, they are one of the leading causes of death of tourists in the country, or the precariousness of medical facilities.

However, it is clear that this mode of transport is popular with backpackers, including some pretty curls Southof the country (region Thakhek, Bolaven Plateau).

So here are some tips:

- Laos is not a country to learn to ride a motorcycle , especially on a small machine speed or enduro machine larger displacement when we do not permit home ...

- Trousers, T- Long Sleeve ( already for sunburn) , closed shoes , helmet ( also required) are highly recommended.

- Be sure to check the condition of two-wheelers, brakes, and headlights. In this regard, night driving is absolutely forbidden, especially in open country. This is extremely dangerous: nest -holes or rather elephant passages without bitumen livestock. To avoid this, if your plan wide step is long.

- Most of the time, renters do not offer insurance. Seek out those who have. But even if it exists, it is only a third formula and minima.

- A large tower motorcycle must not be considered alone.